Out of our countless window treatment options, the Pirouette shade is always a chart topper. This window shade creates the perfect mix of function and style in any space. With view through innovations, stunning appearance, and added UV protection, what's not to love? Let's take a look at what's new…
You Choose: Soft or Crisp View
The latest update to the Pirouette collection gives you the option to choose between a crisp and unobstructed view, or a slightly softer view with more diffused light. Clearview® features a black sheer fabric in order to provide a defined view of your yard.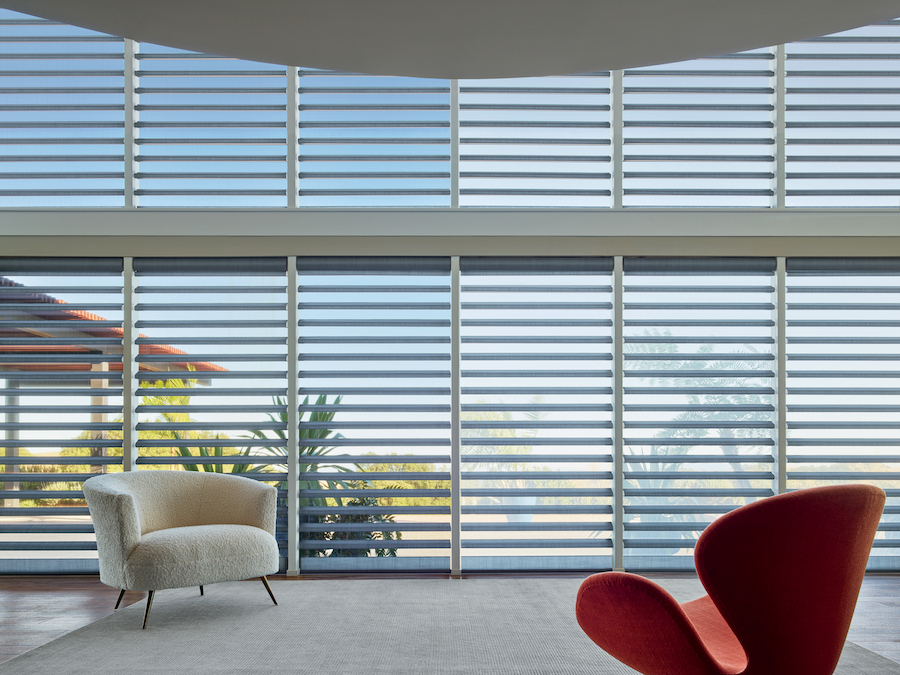 Here we have both fabrics side by side. On the left is Clearview® while the right side is the original sheer fabric. As you can see, both have their benefits and are equally stunning, it's simply up to personal preference when it comes to which you choose.
Coordinating with the Pirouette
Maintaining a certain style while still trying to define each space in an open floor plan can be tricky. We get it! Our designers know which collections pair well together, in order for you to improve the function of windows and doors, while also adding stylish design.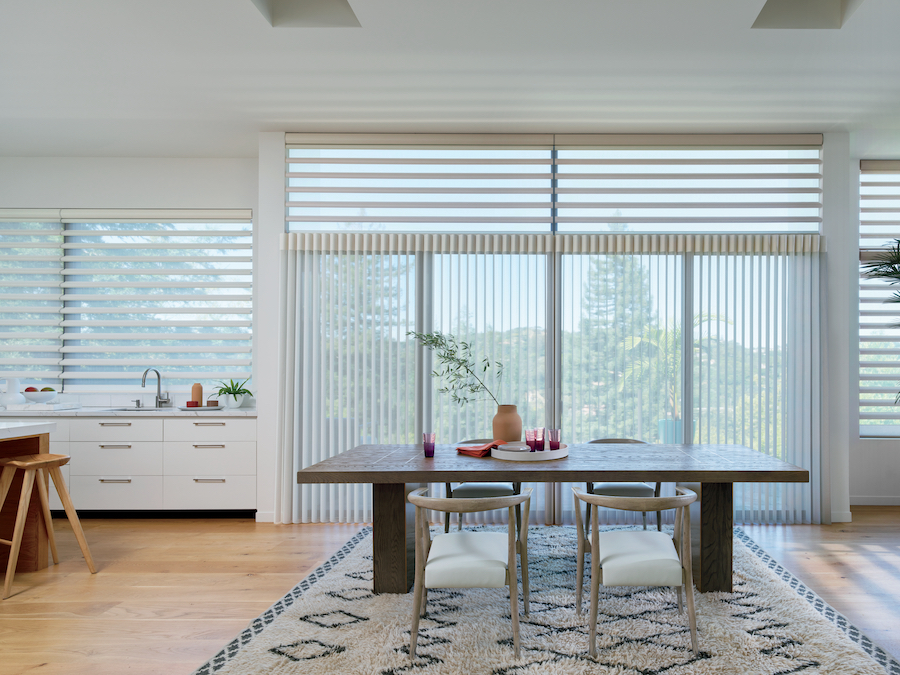 Many of our clients like to keep a cohesive look throughout their homes. Window treatments play a large role in that. So, if both windows and doors are in the same shared space, we've got you covered! As an added bonus, these shades are prime for UV protection. The sheers block 81% of UV rays, and with the vanes shut you're looking at 99% protection for your interiors.
Even Your Large Windows will Love these Shades
Large windows are like a built-in pieces of art–such a focal point in any room! However, there are certainly times of day where it's preferred to have added natural light control and privacy. These shades not only function as a great backdrop, but also are perfect for your biggest windows because you don't have to open or close the entire shade to enjoy the benefits. With Pirouette shades you can simply adjust the vanes to the exact setting you like.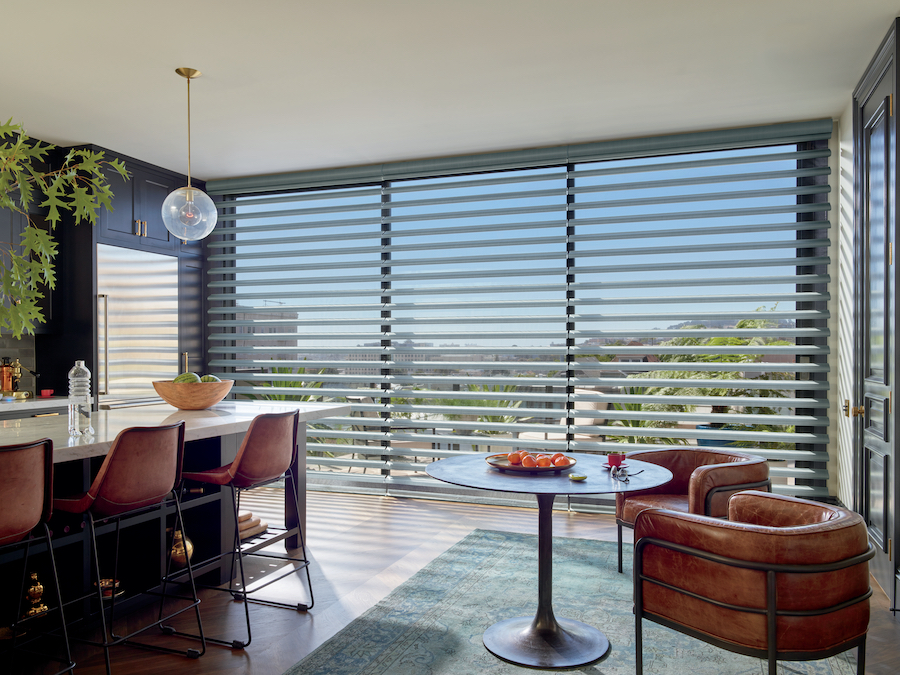 The size, up to 144 inches by 144 inches, is another factor that draws people in. These massive measurements mean you can easily outfit your floor to ceiling windows. And for even wider windows, several shades can be used to create an almost seamless look.
Several Ways to Control
Out of all of our different operating systems, our most popular is automation. There are two different ways we can go about this. One allows control as smart home technology, using voice control or with a simple tap of a button on your smartphone, or even a remote. Another is the SoftTouch™ system, which includes a wand that offers motorized control for an individual shade right at the window.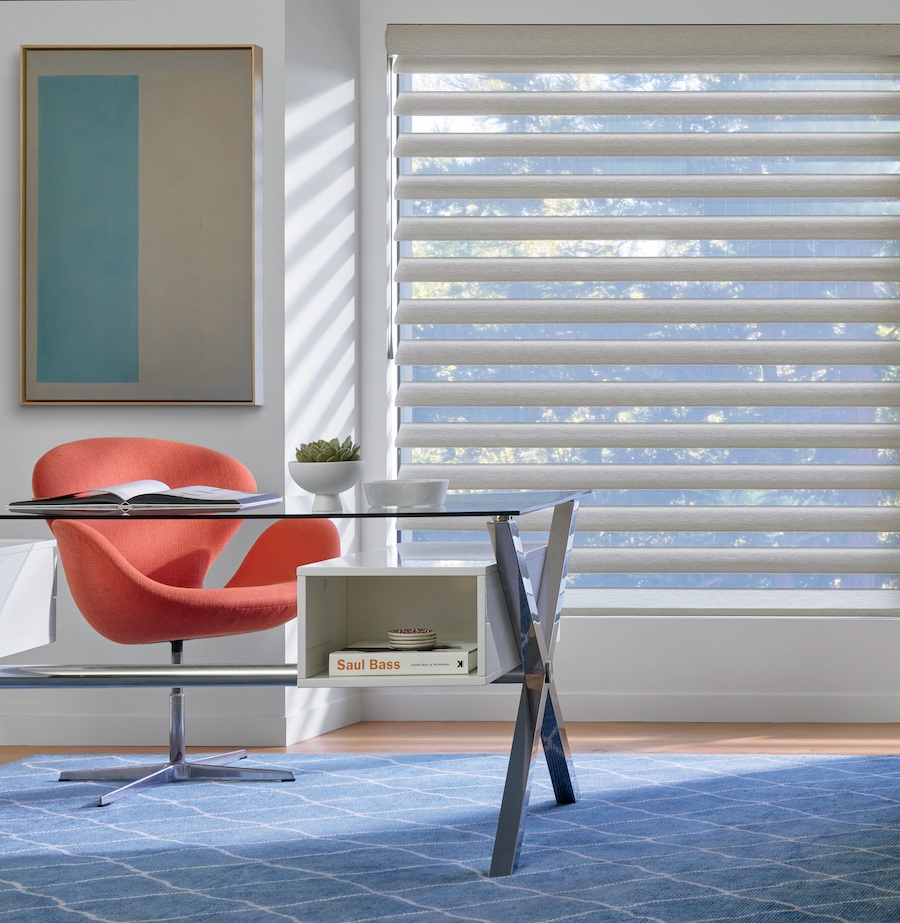 If a cord is what you'd prefer, we also offer corded systems that are child safe. Ultraglide features a short and retractable cord. EasyRise is our other safe, corded system. It consists of a continuous cord loop, attached securely to the window frame.
Are you convinced yet? The Pirouette shade is truly a must-have for any room where you're seeking more style and function at your windows. Contact our team here at Rocky Mountain Shutters and Shades today for your FREE design consultation.