Before you tackle any home project, you need to educate yourself about the best solutions available, and what products are out there. It's no different with window treatments. Get to know the 9 types of window treatments and learn what style is best for your interior window project. 
The Categories Are…
Window treatments are used to provide privacy, light control and energy efficiency. They also bring style and elegance to your home. Most offerings can fit into one of the 9 types of window treatment categories found below.  
Roller Shades

Roman Shades

Draperies

Sheer Shades

Blinds

Vertical Window Coverings

Woven Shades

Plantation Shutters

Honeycomb Shades
Today, some of these choices can be combined to create a dual function at the window. The possibilities are endless.
Roller Shades
Among the 9 types of window treatments, you may know the roller shade for its familiar design and simple function. They have been around for decades. These days, it's the style element that rollers bring to homes–and the available upgrades–that make it a popular choice.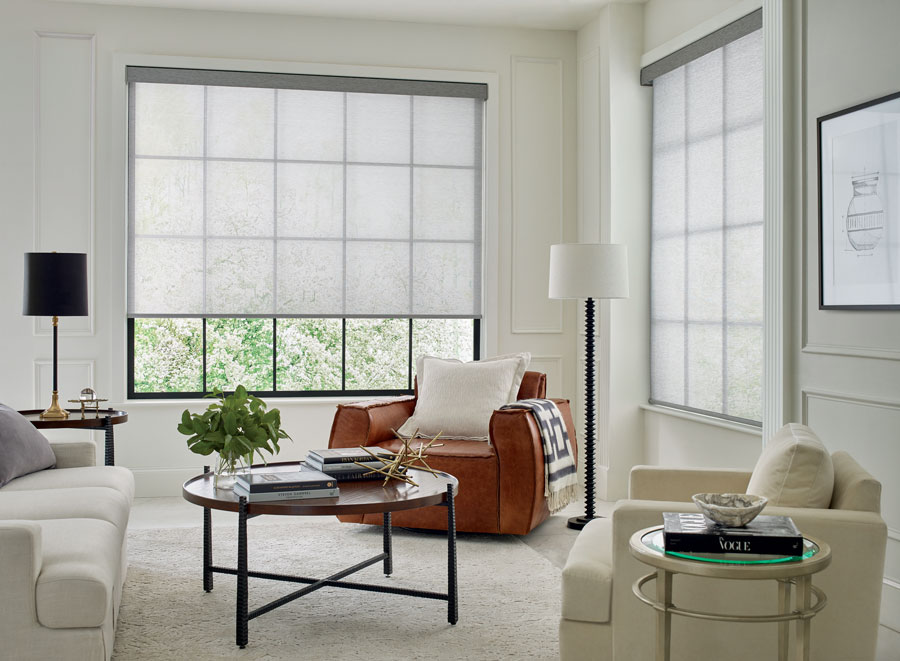 Roman Shades
Thousands of years ago, Romans were protecting their homes from dust and heat with cascading fabric at the windows–we know this became Roman Shades. Today, this category of treatments is still widely used in homes for light control, energy savings and privacy. More importantly, they have become a design piece as well. Roman shades are available in patterned fabrics and multiple fold options. They add texture and beauty to any room in the home.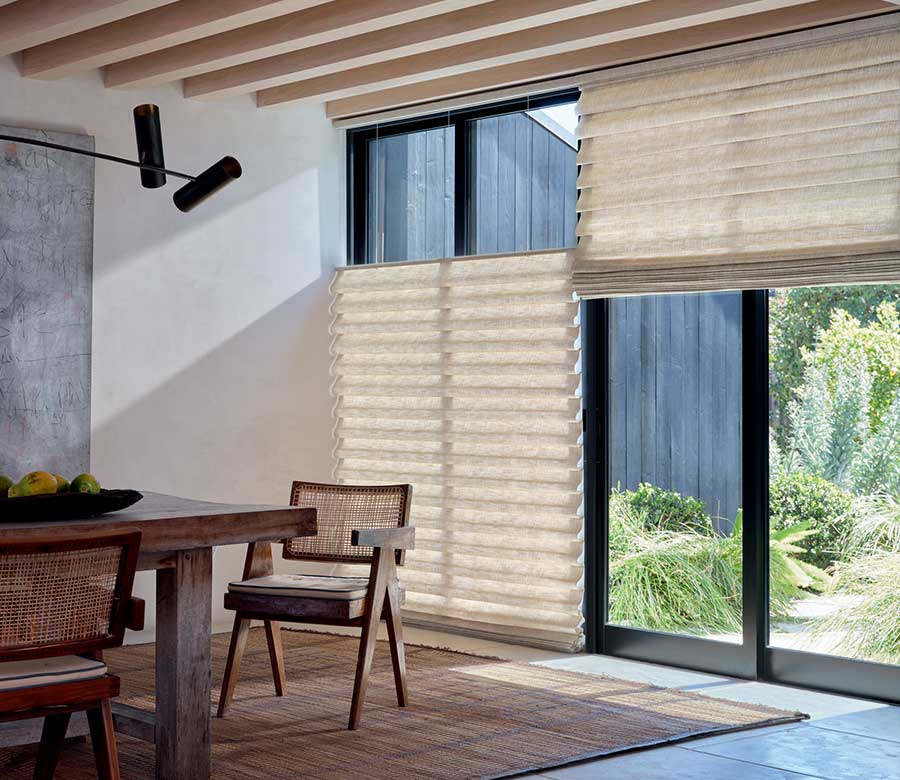 Draperies 
Another type of window treatment that has evolved over time are draperies. Drawn closed, you have complete privacy, when opened, quick access to the window. Now with a large variety of fabrics in varying opacities, draperies can be sheer, reducing glare while providing light-filtering or room darkening.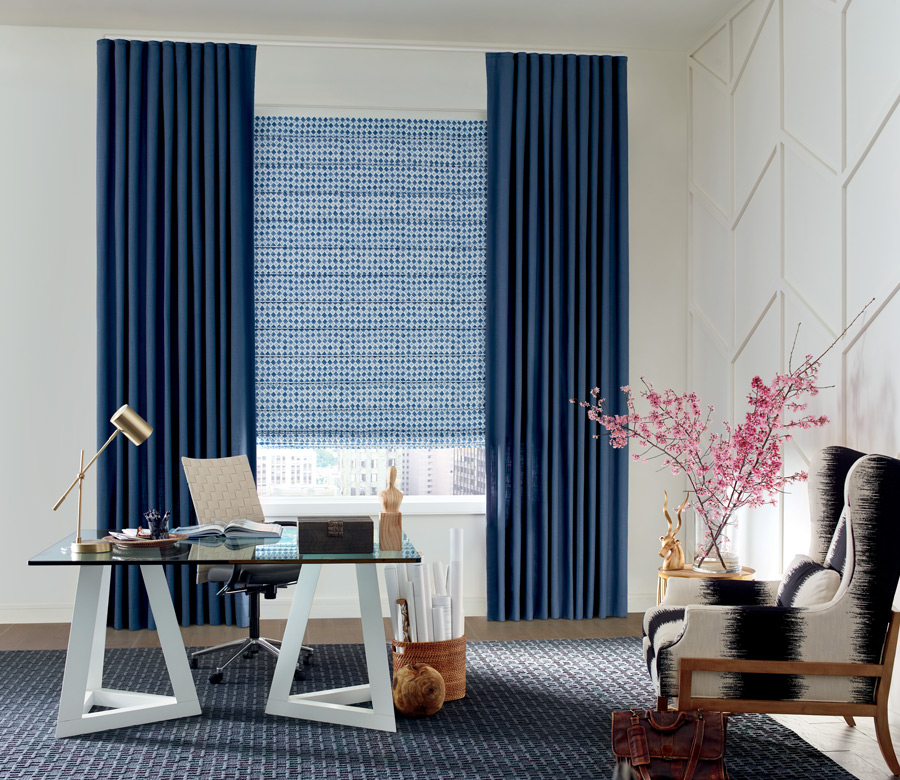 Or, consider using stationary drapes as side panels to flank windows, this will elevate the style of your room and complete the look.
Sheer Shades
Sheer shades work wonders if it's filtered light you need. Sheers are an incredible way to bring a bright, dreamlike feel to your space. You can either enjoy the view, or close it off, by adjusting the vanes within the treatments.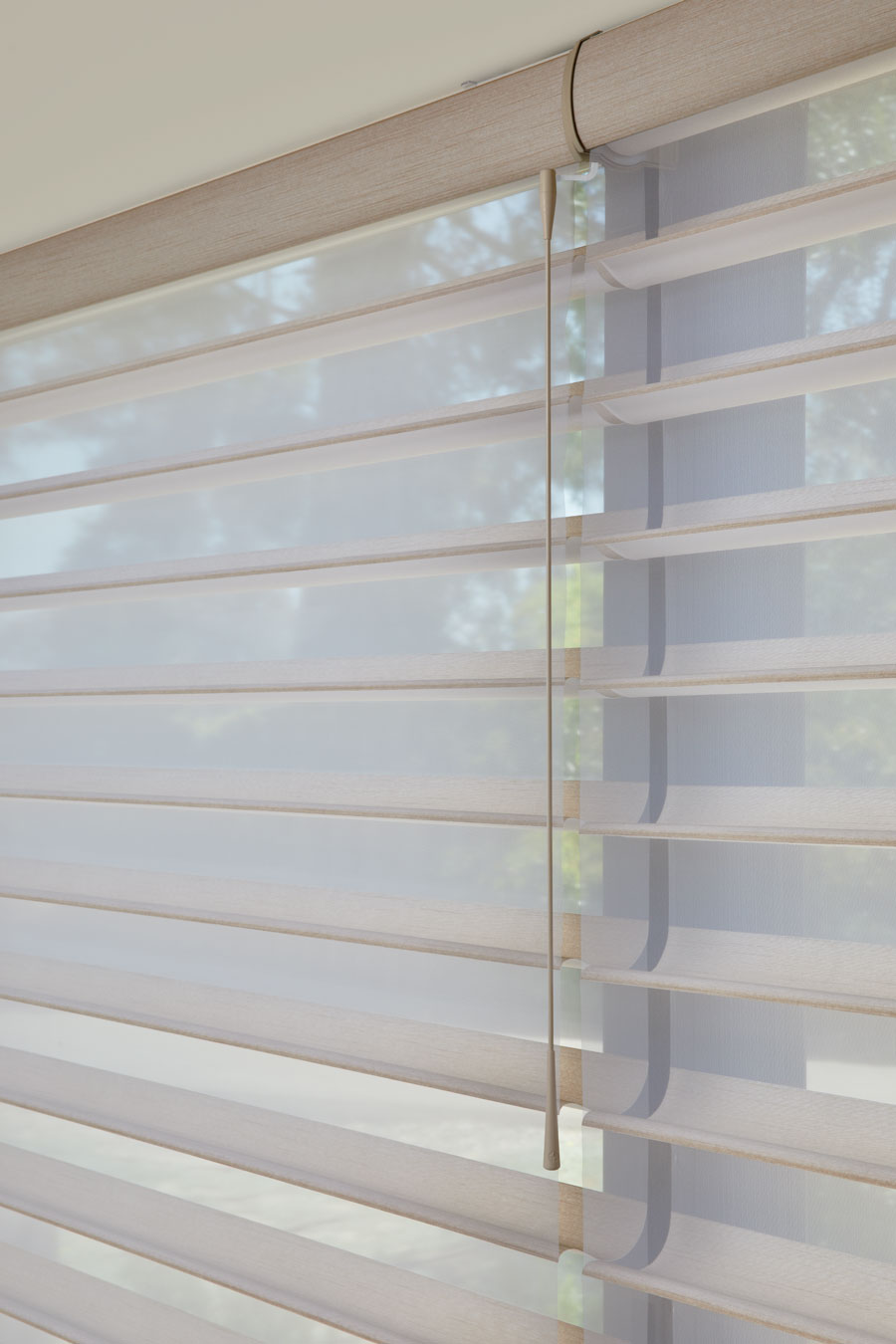 Window
Blinds
This familiar type of window treatment category, comes in a number of colors and sizes to best suit your window style preference. Blinds are a client favorite offering light control and privacy while adding a coordinated look to your home. Blinds are available in wood, vinyl and composite materials, perfect for all your window covering needs.
Vertical Blinds & Shades
The best choice for sliding doors and large windows, verticals move in the same direction as your slider does-sliding sideways on a track. Many homeowners like the idea of vertical blinds and shades because they come in a range of materials, like wood, fabric or vinyl. Their slats adjust to control the light and privacy.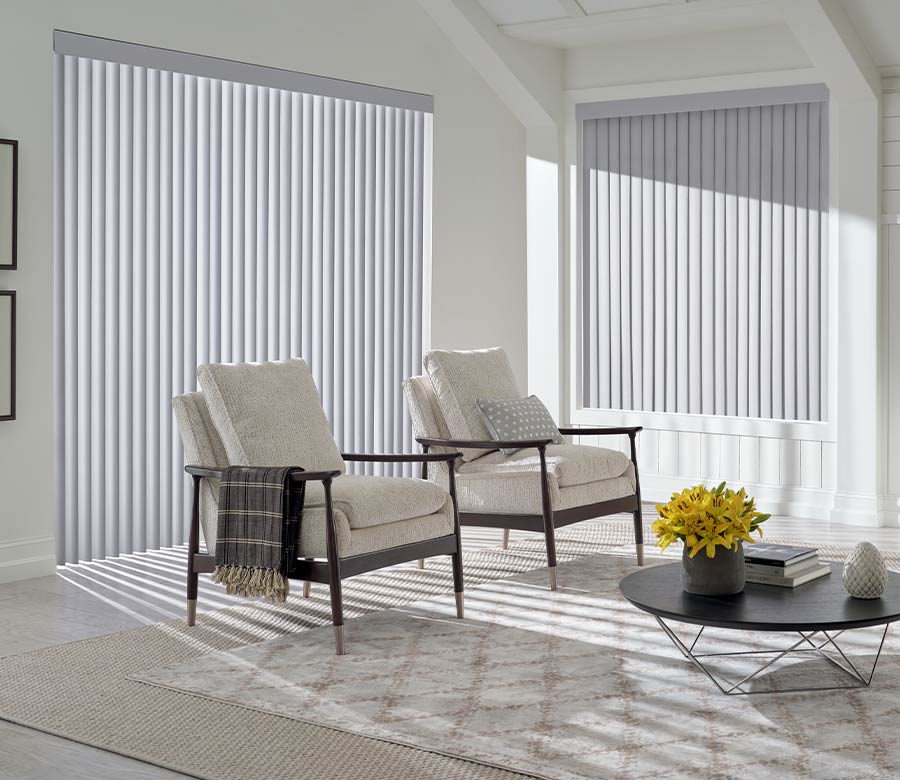 Vertical shades are offered in a wide range of materials, such as woven fabrics, cellular shades, and patterned materials. It's easy to solve common window issues with shades, you have lots of options, like room darkening fabrics, energy efficiency and motorization.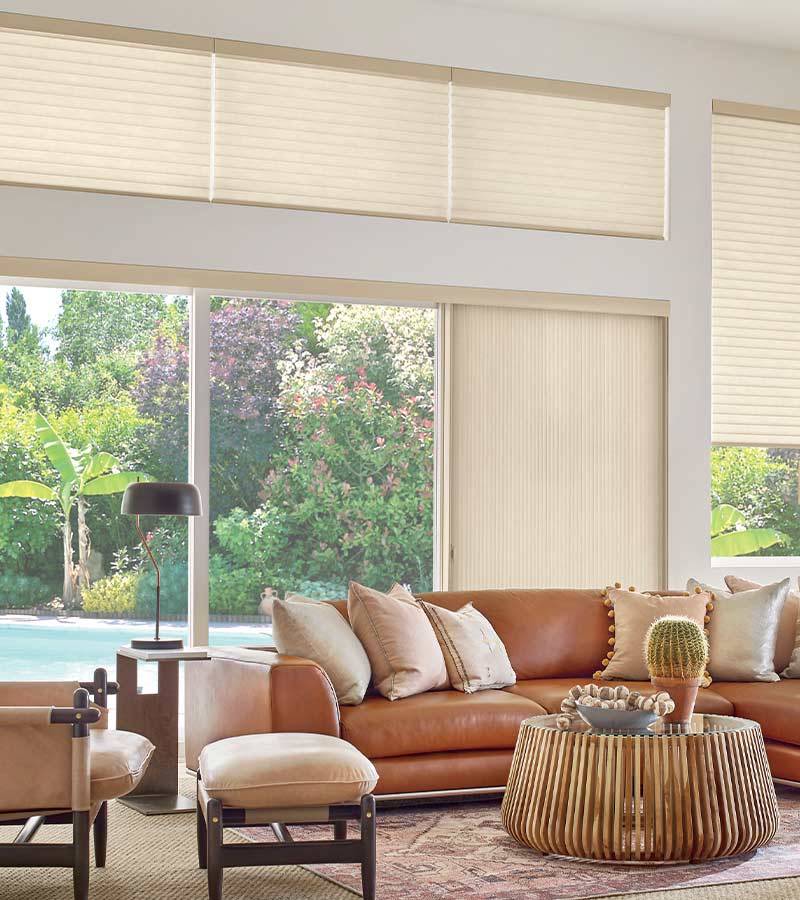 Woven Shades
Perfect for adding beauty to your home through window treatments, woven woods are made from natural materials. The collection includes elements of reeds, wood, grasses and bamboo with multiple color variants to add texture to your space.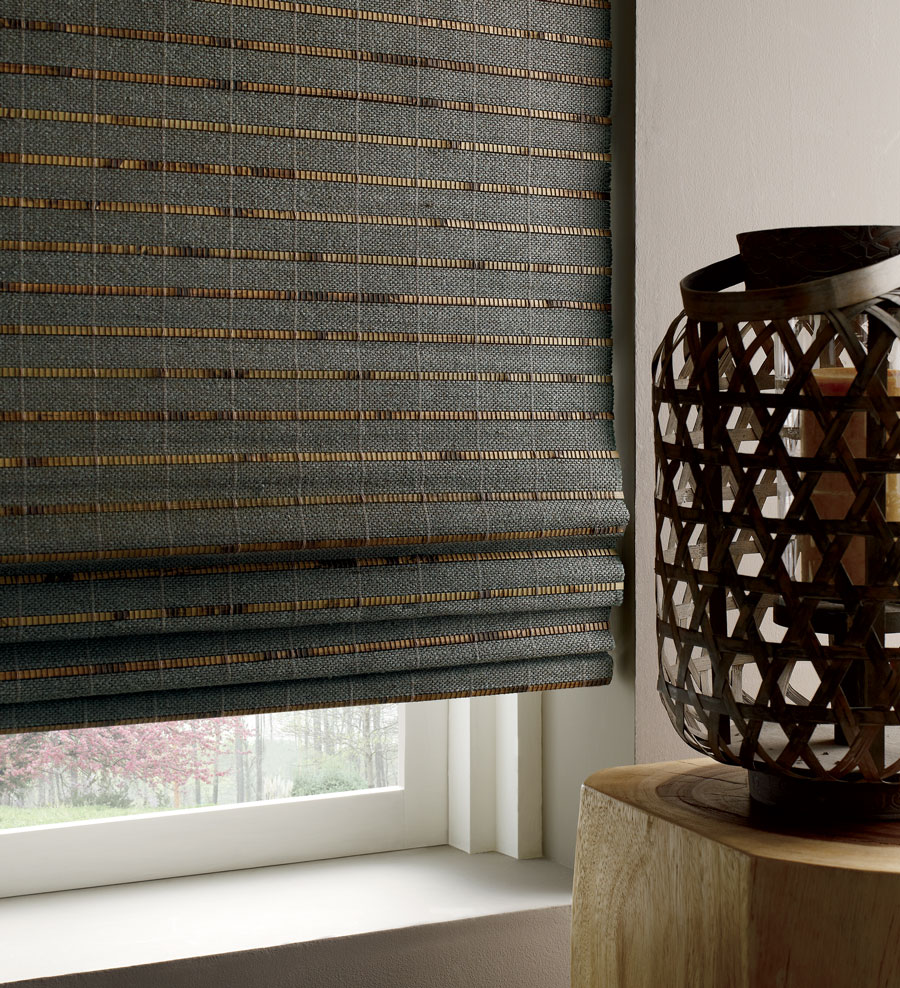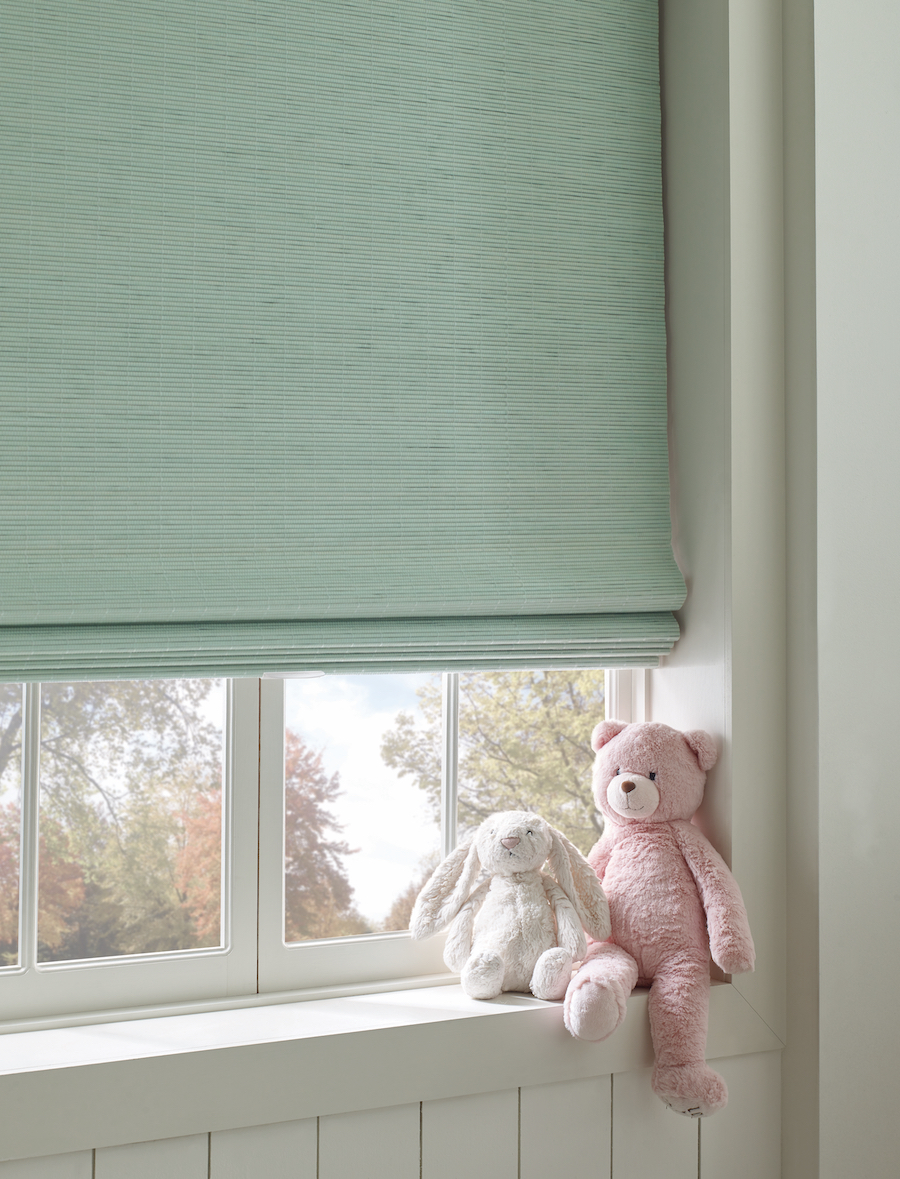 Plantation Shutters
Today's shutters are designed with incredible innovative features for the modern home. They come in wood, vinyl or composite with louvers that open and close. The hidden tilt feature opens up your view to the outdoors by removing the front tilt bar. For classic elegance, plantation shutters are designed to look built -in and our Palm Beach shutters can be fitted with motorization. Always a client favorite.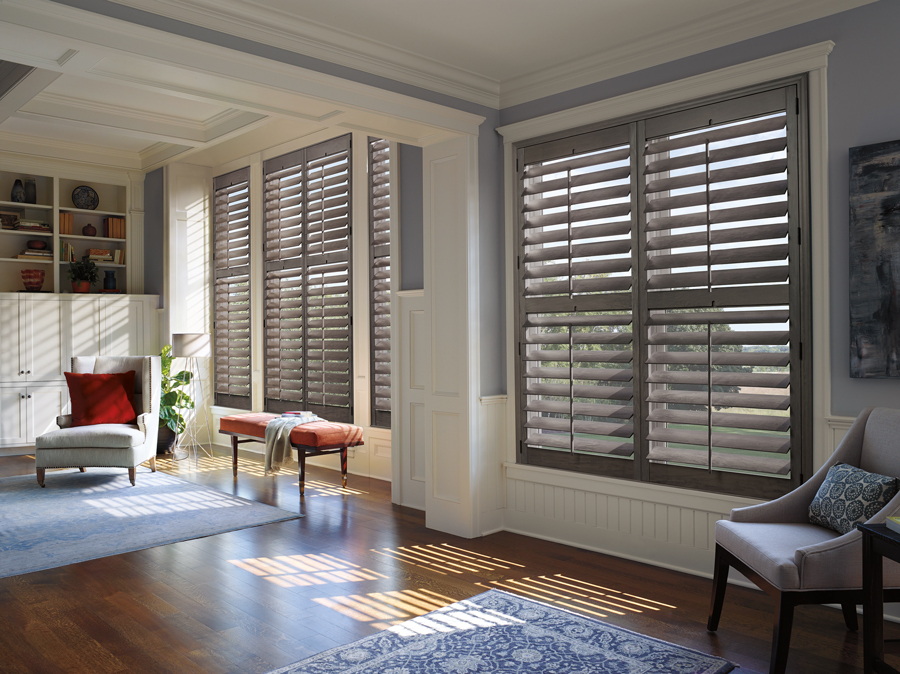 Honeycomb Shades
Known for their incredible energy efficiency, honeycomb shades feature a uniquely-shaped cell to trap air in and keep your home comfortable all year. They will insulate your windows and look great in the process.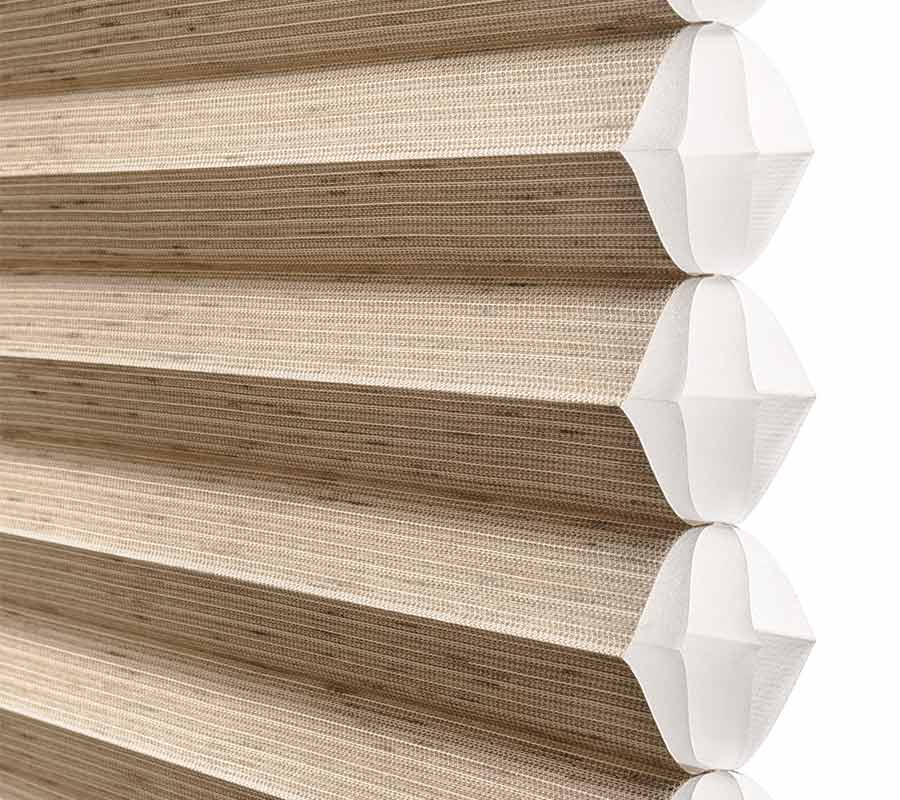 In addition, the uniform pleats offer a continually organized look, while modern innovation makes these treatments an award-winning choice.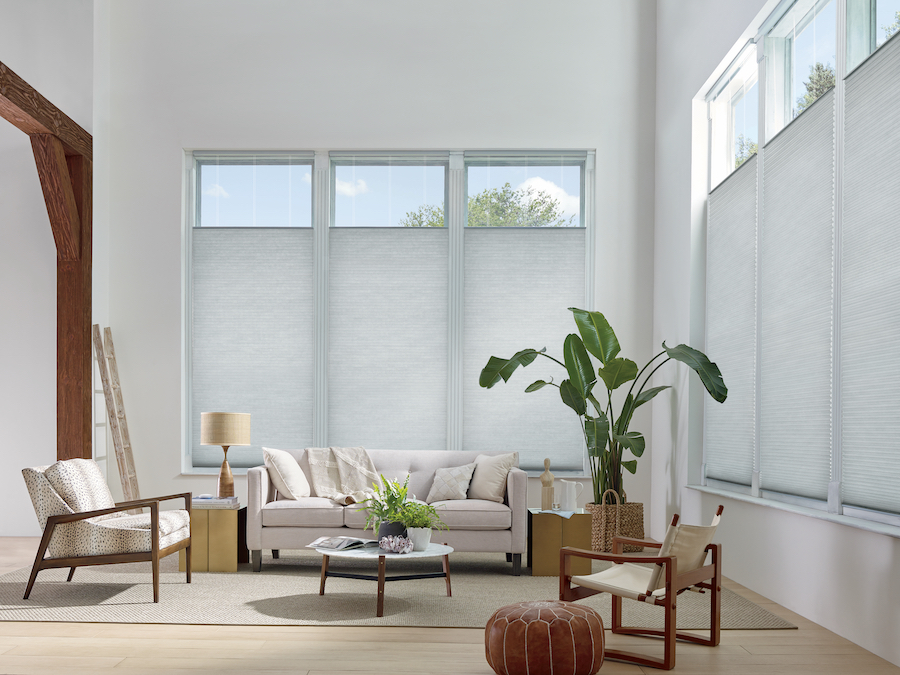 At Rocky Mountain, we can help you select the ideal types of window treatments for your home. Whether it's a visit to our showroom or an in-home consultation, we will continue to educate you and together come to a solution that works best for your windows. We understand that no home is exactly like the next, so we offer custom solutions for your unique windows. Come in for a FREE consultation today!