It feels like just yesterday that we were introducing the color palette of 2021! Time flies when you're having fun in the design world! As expected, Pantone has been busy making selections and is ready to inspire again with the upcoming color palette 2022. Get ready to be amazed by these ten fresh new colors and top five neutrals. Ready, Set, Design!


The Evolution of Color
Each year comes a new list of colors and the reinvention of popular favorites. Take a look at the patio space below, the traditional pairing of red, black & white is a designer staple and the inspiration for this modern look. By adding just a subtle twist, a classic color combination evolves into a fresh modern space full of youth, energy and happiness.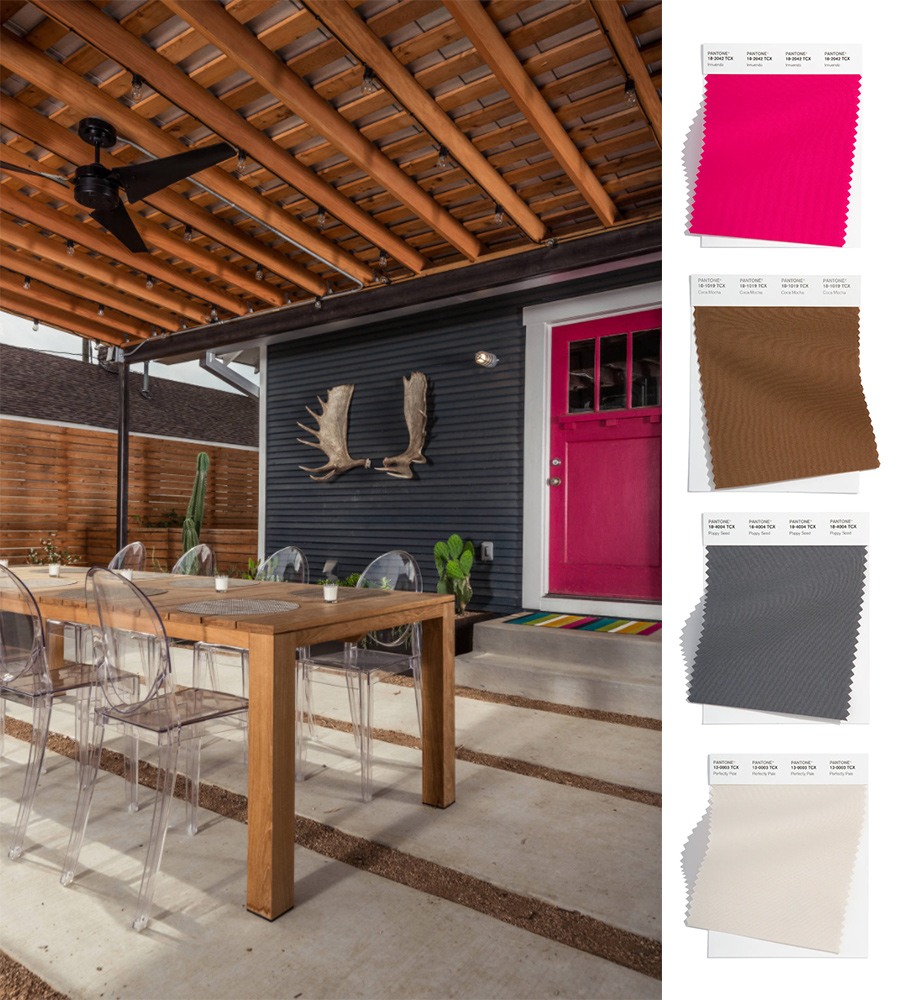 Make a Bold Move
The soft serene color choices in this kitchen give off a cool throwback vibe. But watch as the designer uses an unexpected color to launch us into the future. The pink walls, accented with grays and green are lovely, but this kitchen begs for something more. Notice how the spark of red lightning ignites the design and inspires us to make bold moves with color combinations. Color is not just for professionals any longer.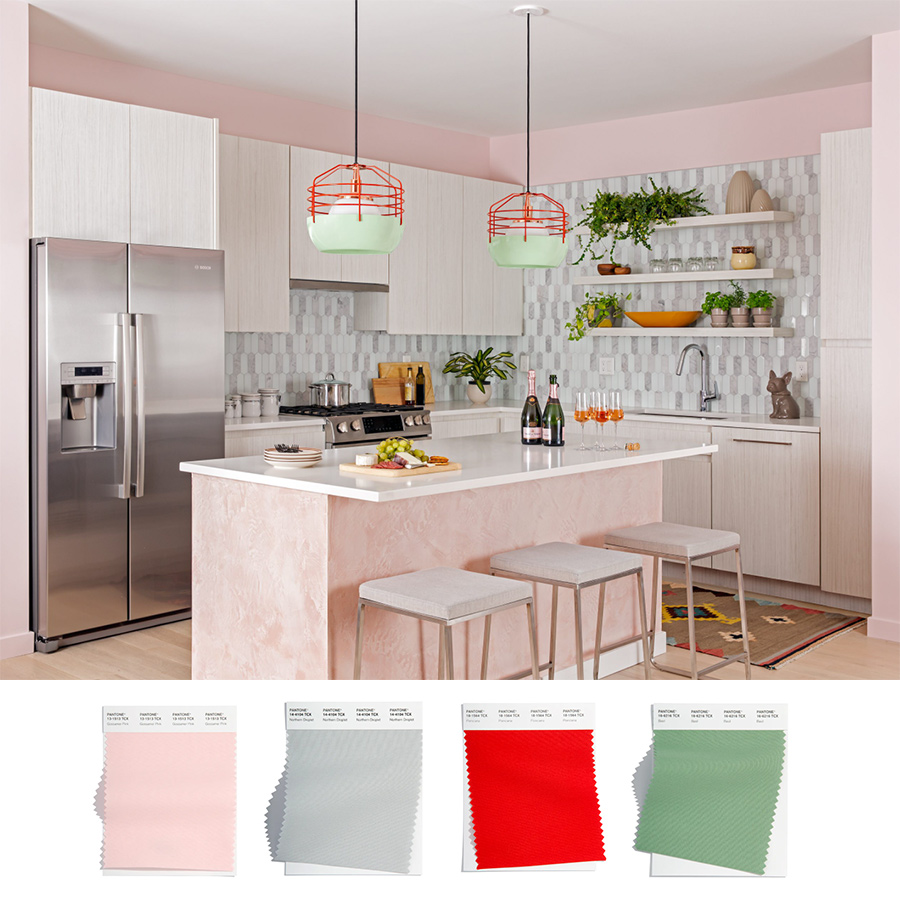 What's Your Favorite?
It's hard to choose a favorite when you're picking from the upcoming color palette 2022! And now that neutrals are front and center, it makes it even more of a challenge! The good news is that by pairing a favorite hue with a neutral shade you don't have to choose only one. Allow the colors to work together to achieve your favorite look.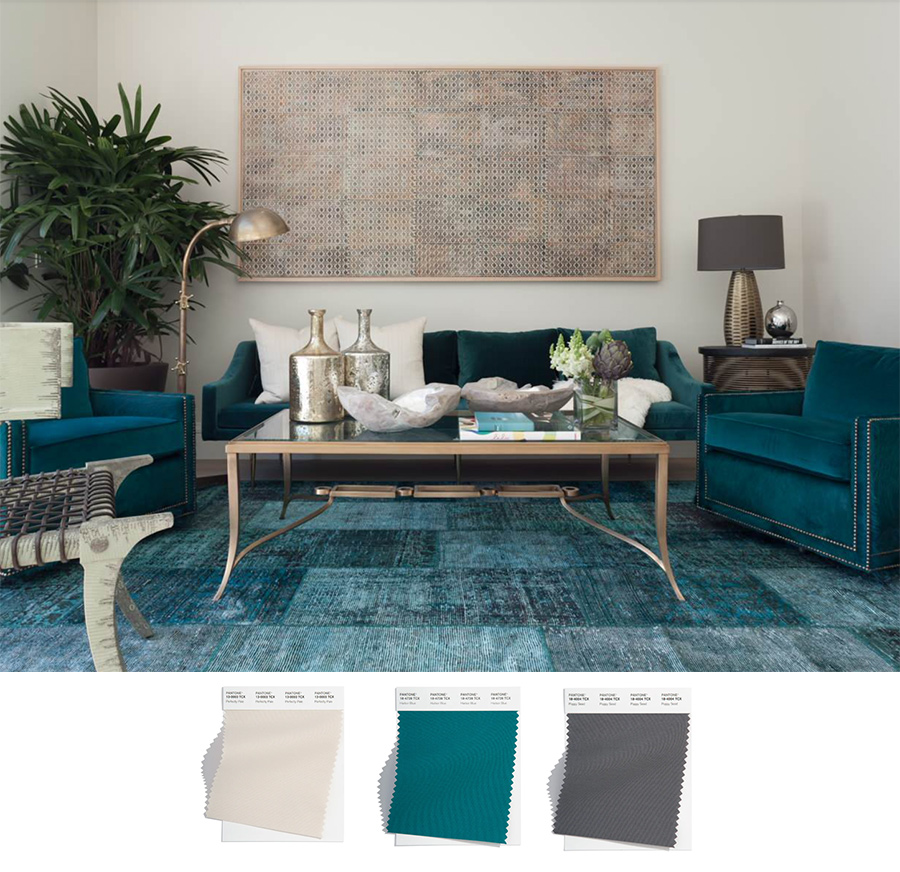 Stir it Up!
What's on the table this year for kitchen colors? Everything. So many clients are taking risks these days and adding more personality to their homes. This means moving away from traditional wood toned kitchen cabinets or white paint.  The most popular room in the house should project your family's vibe. Going forward, we will see anything from blues and grays to more vibrant reds and yellows–or even black! Create your own story with the upcoming color palette 2022!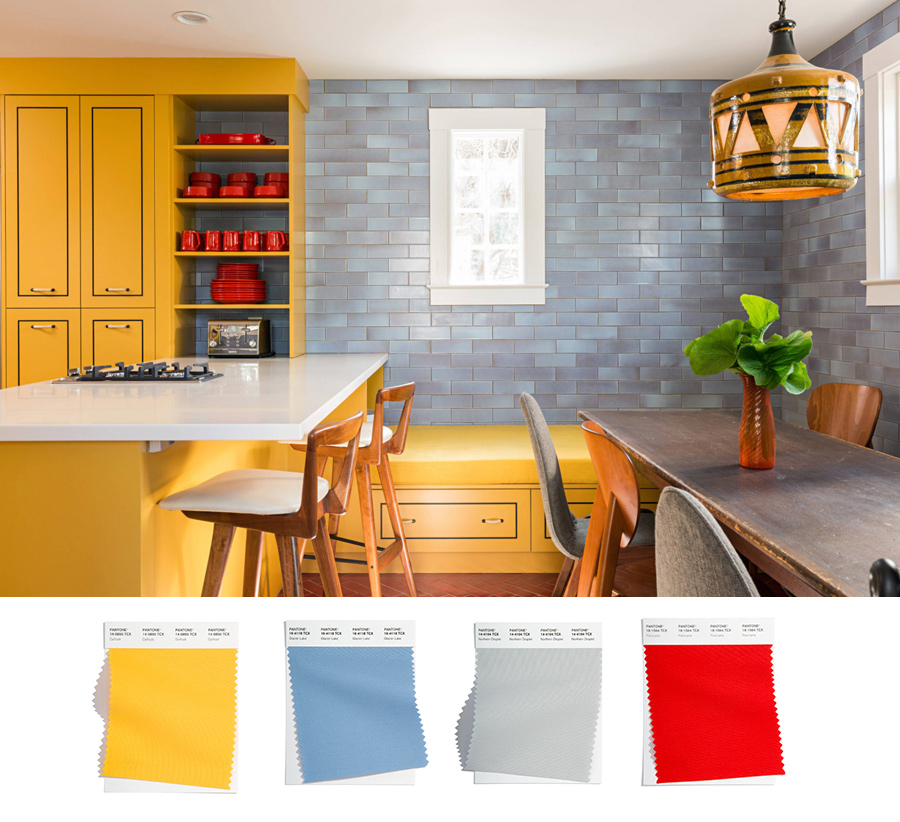 Light & Airy
With the color palette 2022, it's easy to get playful with color. There are so many complementary colors to work with- the sky's the limit. You can achieve a sophisticated custom look as well by choosing soft tones that complement each other while still having fun! Don't be too serious. Keep it light & airy.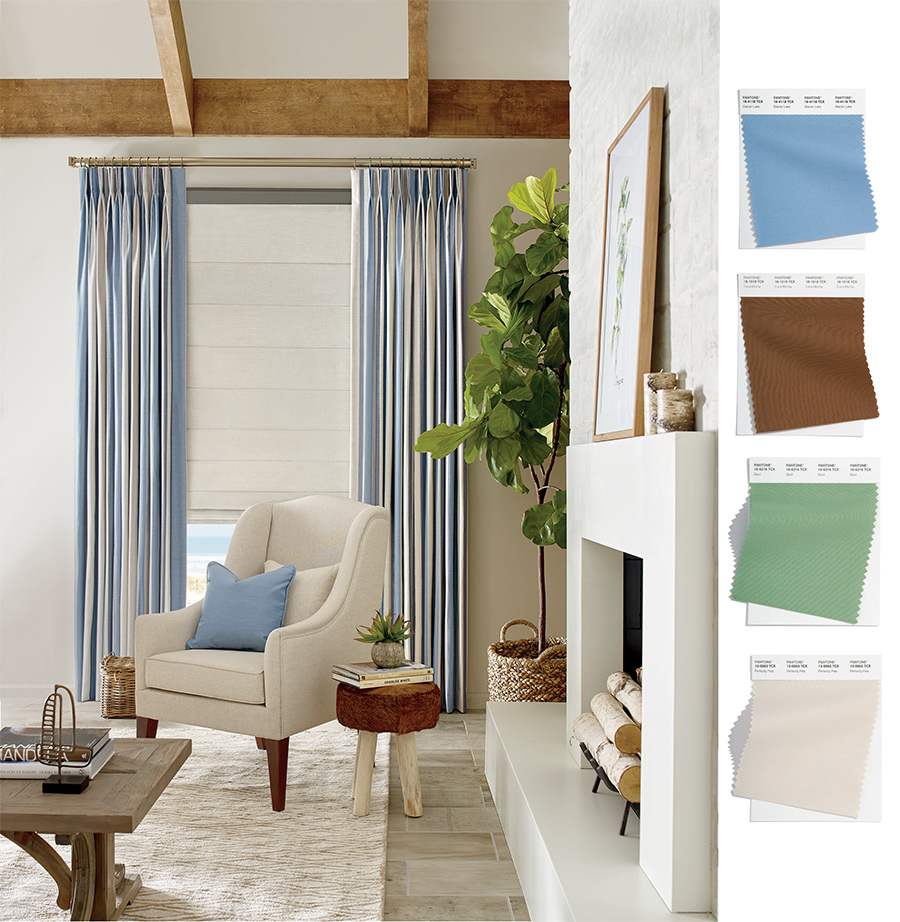 True Blue
You'd be hard pressed in finding a color palette that doesn't include blue! Its versatility can't be denied, probably the reason we see it featured again in the color palette 2022. Blue has been described in many ways over the years: soft, serene, smokey, dark. No matter how you name it, it's an important player in the design world. As showcased here in this formal dining room, Skydiver sets a dramatic scene with its rich blue blend and green undertones. It's anchored with wooden design elements and a touch of green is used to even it out.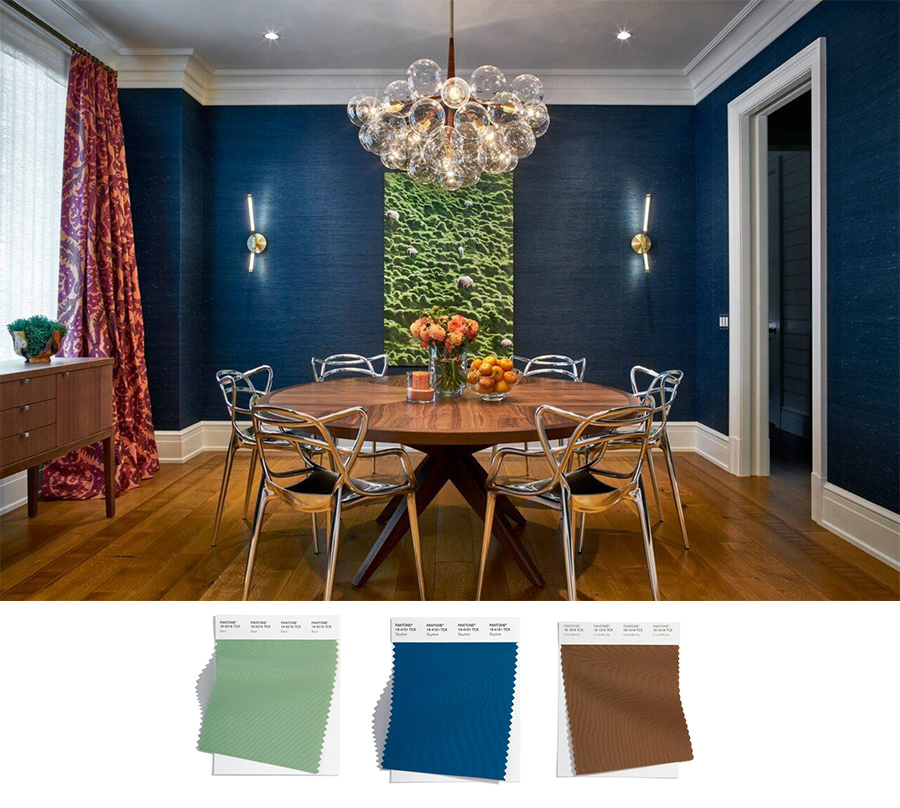 Statement Piece
Every wardrobe and home needs a statement piece. Let's go for it this year by adding an upcoming color palette 2022 shade to personalize your home. What will it be? An accent wall in a flirty hue or an eccentric piece of art you've been loving? Maybe a vibrant front door color to liven up the neighborhood? This year, be yourself, take a chance and make a statement.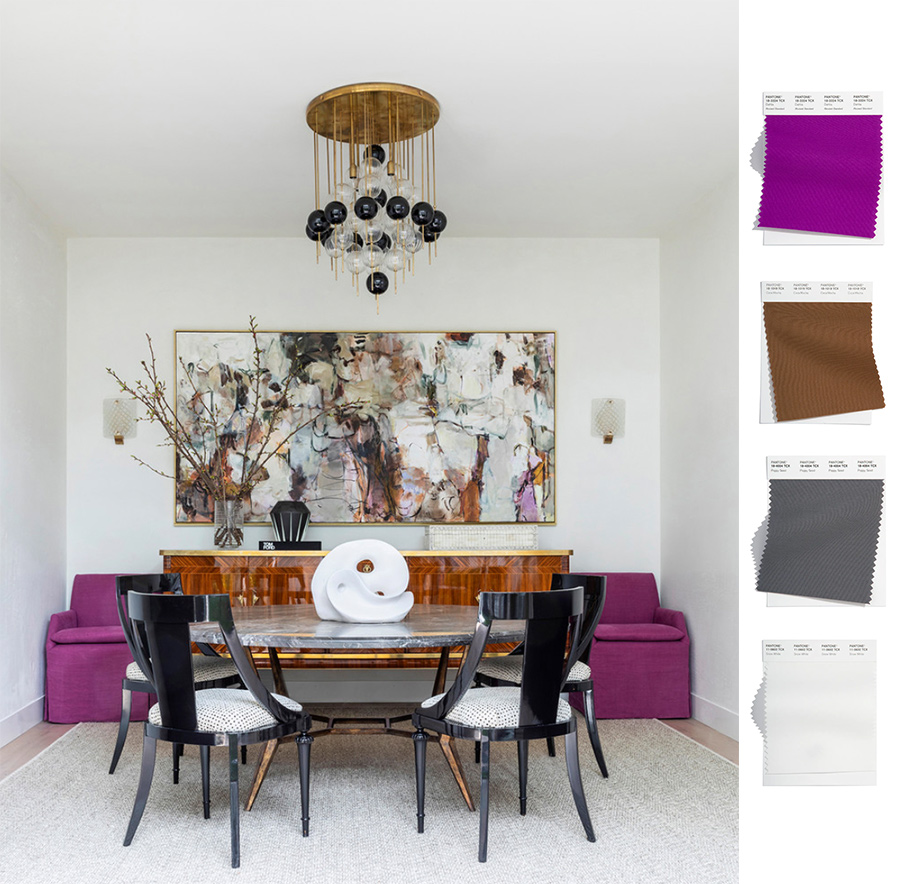 The Upcoming Color Palette 2022: Have You Picked A Favorite?
It's exciting to see the future of color developing before our eyes. As the list of new colors emerge and take over the design world, where will your designer's eye take you? Will you lean toward neutrals or make a statement with a bold new color. At Rocky Mountain Shutters & Shades we can guide you in the process of creating the perfect space. Choosing color is just one step in the process of updating your home and making your dreams a reality. Contact our designers for a FREE home consultation today!