Not tech savvy? No worries–with today's simple automation, you don't have to be. The latest innovative features give you control that fits the way you feel most comfortable. Today's world of technology seems to offer such endless possibilities. But when it comes down to it, the smallest changes can prove to bring the biggest results for your lifestyle. You can start by asking yourself, "Which parts of my life feel like they need to be improved?" Then, it's as simple as getting started. We'll show you how easy it is to take advantage of just a few aspects of the latest innovations. And then, sit back and watch things fall into place! Need to add productivity, motivation or scheduled energy efficiency? It's never been easier to…
Get Your Day Started Right.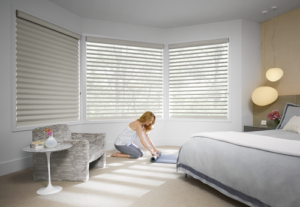 The majority of people would say that they wish they could get more done in the morning. Whether it's starting the day with a work out, meal prepping or just getting a jump on work or hobbies, productivity is key. The answer? Simple automation. And, right now, it's never been easier. The hardest part of getting your day started–feeling productive, organized and motivated–is just getting started. You know what simple automation can do? Create the "scene" that sets you up for success.
The PowerView app lets you control everything from your favorite device, like a smartphone, your Apple Watch or your choice of voice controlled automation. Shades adjust to let in just the right amount of morning light, speakers play your favorite songs and the temperature is easily adjusted for the perfect environment. These aspects of simple automation make achieving success from the start of your day as easy as setting your alarm.
Be On Time–Every Time.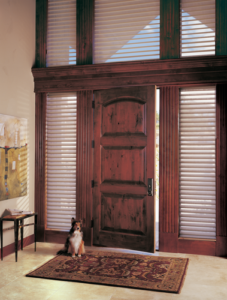 Does leaving the house feel like the biggest challenge of your life? Sometimes, you get out the door on time, and then spend the rest of the day fretting about forgotten tasks and items. The other times? You might breathe a sigh of relief that you accomplished everything you needed to, but you end up running a half hour late all day long. Need balance? Of course you do. And today's simple automation can bring smoothness to your daily life. With PowerView motorization, your smart home technology can integrate–adding incredible function to your home. And, you'll have less to do, making the task of getting out of the house on time so much easier.
Energy Efficiency: Lights turn off.  Shades and blinds adjust on a schedule, automatically. Or, if you're not sure what position they're in? A quick check-in on the app sets your mind at ease.
Privacy & Security: It's yours to control–scheduled, or at the push of a button. Use simple automation to lock your house, check in on the dog during the day–even adjusting your shades to meet your pet's needs while you're gone.
All of these simple tasks add up, and they either make you late–or, you spend the day worrying about them. Not only will simple automation create the balance you need to get out the door and feel less worry during the day, but it will also help you come home to right atmosphere every night. You might create a "Welcome Home" setting with PowerView. Access to the ideal environment is one quick tap, or one short request of your Amazon Alexa. It's the hassle-free comfort you need to turn your house into your home, in an instant.
Enjoy Life More, Exactly How YOU Prefer.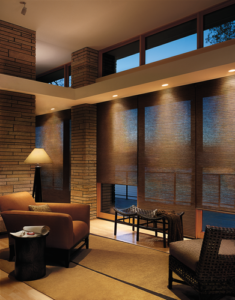 Movie night? Dinner with friends? A long, sought-after soak in your tub? It's time to enjoy life more, no matter what you're looking forward to. Your free time is limited, so you need to take advantage of every moment you can get. Simple automation will bring dramatic results, letting you wind down exactly how and when you need it. The customization of PowerView "scenes" makes it all possible. It's instant atmosphere, created to meet your lifestyle.
Create a "Movie Night" scene, and with one tap on your favorite device, get settled in with your family as the blackout shades lower and surround sound offers a dynamic experience. With a scene created specifically for "Dinner Time," the lighting will dim for an intimate atmosphere, the shades adjust to reveal your gorgeous view and your favorite channel plays on Pandora. What about that elusive "Bath Relaxation" setting? Grab a glass of wine and head on up to your master bath, where you'll hear soft music playing as your shades quietly close for some much-needed privacy.  
Achieve Lifestyle Control with Simple Automation.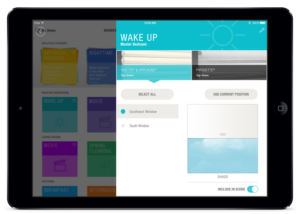 At Rocky Mountain Shutters & Shades, we've really enjoyed the amazing results we've experienced from what we've named Simple Automation. PowerView automation integrates so easily with all of the latest innovative features in smart home technology. Set schedules, save your favorite scenes and lifestyle settings. You choose YOUR choice of control. Whether you love the idea of the Pebble remote–designed to be intentional decor, the ease of voice activated control–like the Amazon Echo or Google Home, or your favorite device–like the Apple Watch or your smartphone, it's all up to you. You don't have to be an expert. You'll gain access with ease–and we can help you get started!  Contact our team to get started today!