What goes with gold? Everything. The end.
You didn't really think we'd leave it at that, did you? Gold has come onto the style scene, and it won't be going anywhere soon. It's truly one of the classic metals, due to its ability to coordinate with any color or design element. Metallics are a great way to bring your unique personality into the decor of your home. We've dedicated our latest Houzz project to the lasting style of gold window treatments. Back to original question–what goes with gold. Take a look at the color schemes and style elements being used to showcase this timeless metal.
Just a Touch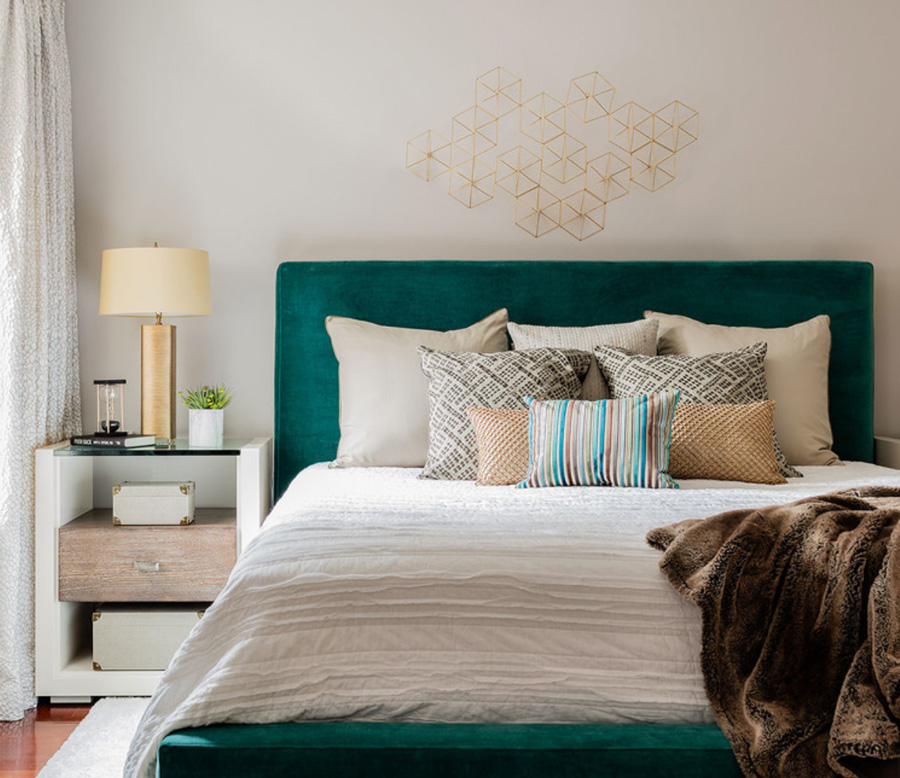 When you ask what goes with gold, the answer you'll get is: The Sky's the Limit. Even in small doses, metallics add sophisticated design. We love how this abstract, geometric sculpture behind the bed adds just a whisper of designer style. And, coordinating the look with a lamp on the bedside table is a great way to add pops of gold in other spots. Even as just a hint, you can pull accents of gold off with tremendous success.
A Gorgeous Backdrop
When you can use your windows to complete the design of your home, you have arrived! The best way to do that is to choose fabrics that bring the overall look of the space together.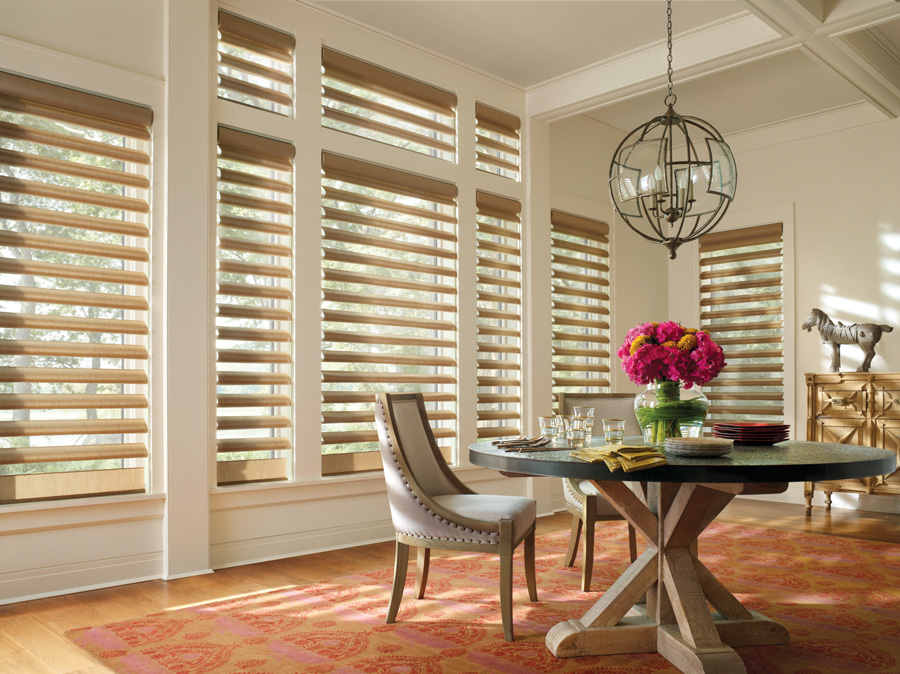 Gold shades may not have been what you would have considered before seeing this dining room, but aren't they beautiful? Not only will these Pirouette shades let you enjoy your view through sheer fabrics that filter the light, but the fabrics add luxurious style that doesn't overwhelm the space.
The Ultimate Statement: Contrast
If you think about contrast, it's one of the pinnacles of design. It's been around for so long that we may not notice–as styles evolve, it's one of the aspects that stays relevant. Take a moment to consider color schemes like black/white, pink/green, or blue/orange. While they evolve, what makes them work is contrast. It's no different when thinking about finishes.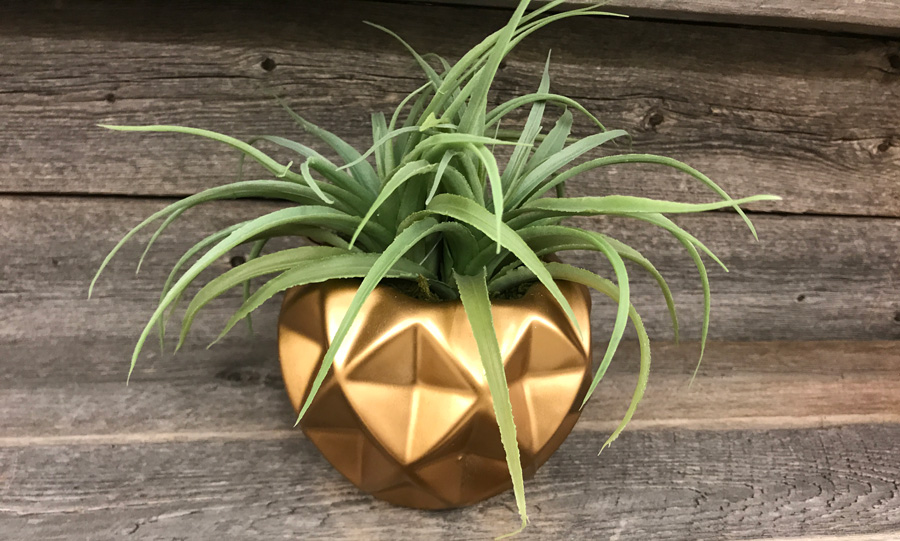 When you consider what goes with gold, choosing accents that contrast is a great way to style metallics. Examples: Wood in both rough cut and rustic finishes will coordinate well. Greenery mixed with gold is another ideal contrast–pairing the natural world with sophisticated metallics.
Lighting: Pendants, Chandeliers & More
Lighting is the perfect way to bring in your personal style. And, all we can say is "Wow!" These pendants over the island really define the space. Imagine the kitchen without them–or, with lighting in a different form. It completely changes the atmosphere and personality of the space.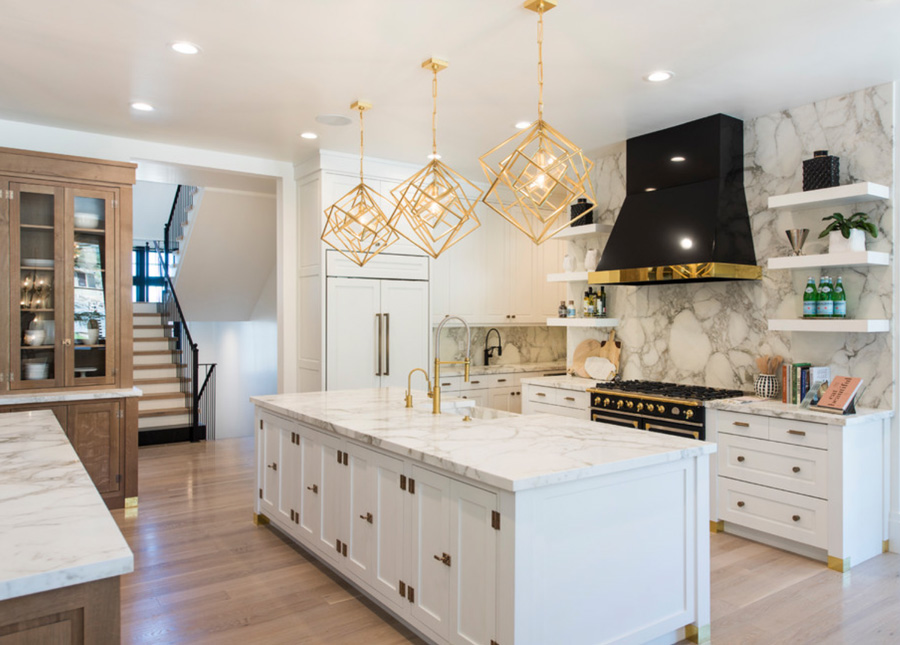 Absolutely striking, lighting in gold can add a designer look to a space in an instant. Notice how accents of gold fill the space, yet so do wooden pieces and flooring? Contrast. It's going to capture your attention now like never before!
What Goes With Gold? The Choice is Yours!
Now that you've seen some inspirational photos and ideas about designing with gold, you can better answer that question. Which looks do you love? Small accents, or a beautiful backdrop? Does the lighting in your Denver area home need a style upgrade? How about your windows? At Rocky Mountain Shutters & Shades, we would love to show you our favorite metallic fabrics to dress your windows. Get in touch with our team to set up your FREE in-home consultation!