There's nothing quite like waking up to the beautiful morning sunshine streaming in through your windows. No…that's not right. If morning sunshine is blasting into your bedroom, that's the last place you'll want to be. If you have bare windows in your bedroom, it's a huge problem. Your bedroom should be your sanctuary–a peaceful place to awaken in the morning, a place of comfort, a place to relax and drift off to sleep at night. With bare windows, none of that is possible. We took this bedroom space, with windows uncovered, and transformed it. Do you need this? Just take a peek at what's possible.
Before: Bare Windows, Frustrating Atmosphere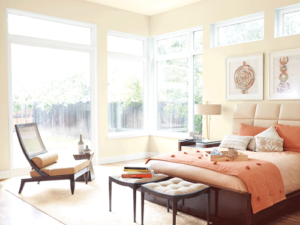 It's harsh to look at. The glare is absolutely blinding. This space is gorgeous, but you wouldn't know it. Everything looks like a washed out version of itself. When you have bare windows, you suffer and so does your home. You'll avoid the space–in an effort to escape the relentless sunshine. And bare windows in the bedroom? Even if you are far enough from the view of your neighbors, you'll probably still feel like hiding in your closet to get ready in the morning. Not to mention, how would quality sleep occur with such bright daylight? The UV rays coming in, for an extended amount of time will dull your furnishings and fade your paint and artwork. What you can't see is the temperature. With the intensity of our Denver sunshine? This room would be steaming by mid-morning. No…this simply cannot be.
After: Transformed for Comfort & Style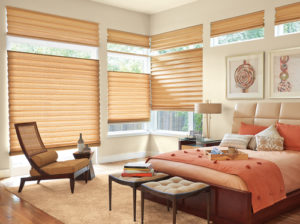 Ahhhh…looking at this space is refreshing. It's peaceful, relaxing…strikingly beautiful, with just the right amount of light.There's no more unyielding glare! These Vignette modern roman shades bring amazing benefits of light control, privacy, temperature management and UV protection. To begin with, these roman shades are the essence of customizable. No matter the size of the window, the look is flawless, bringing both color and dimension to the room. Instead of bare windows, the light control is perfect for a bedroom, with the top down bottom up shades feature. Privacy and light control are adjustable based on preference and comfort. Bring in natural light while still maintaining daylighting and temperature control for the most affected areas of the window. The color scheme is subtle, yet charming, as it coordinated with the decor of the room. Does this look like the type of dramatic transformation you need for your bare windows?
Bare Windows…Transformed.
Whether you have bare windows because you just moved in, or you just haven't made a decision yet, you need a transformation. If you're living with window coverings that just aren't right for you, or ones that don't fit the style or function of your home, you deserve better! Our design team would be happy to help! Sometimes, you just need to hear about what's out there! You need to know what's possible. We'll come to you for a free, in-home consultation. Reach out to our team, at Rocky Mountain Shutters & Shades, to get started today!