Bathrooms are one of those rooms in a home that require both stylistic and functional decisions when redecorating or upgrading the space. The necessary bathroom features, such as privacy, light control temperature & style, are all things to keep in mind. This is where we can help! Window treatments go a long way to transform a space, and our team is happy to help you marry style and function to create the oasis you want in your bathroom.
The Perfect Combo for Bathroom Features
The two main things to consider with window treatments in the bathroom are privacy and light control. While virtually any covering will provide you with these two things, implementing the right one for your space will exceed your expectations!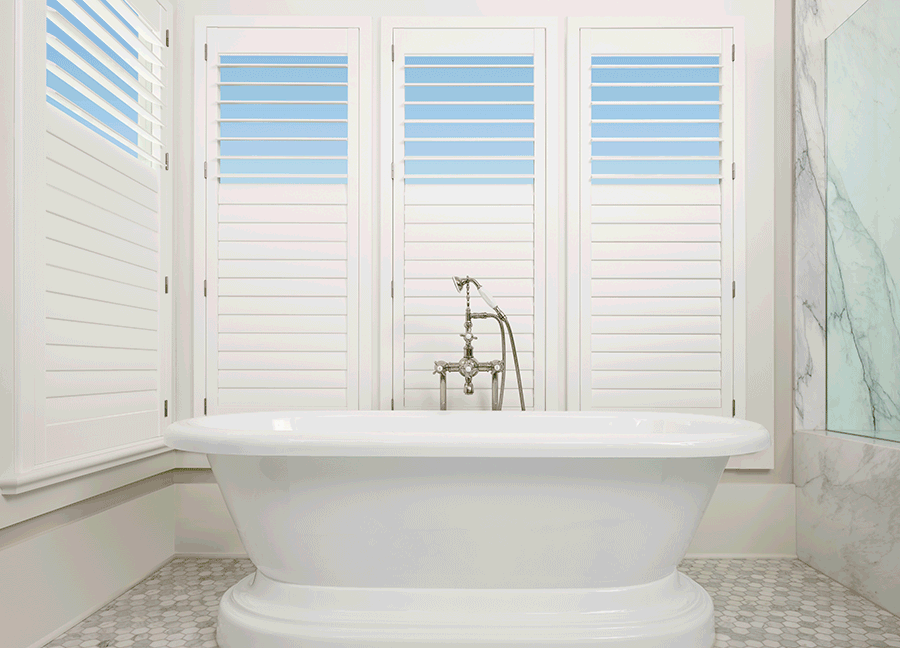 The shutters featured above are what we call split tilt. This is similar to window shades with top down bottom up. Both result in the bottom portion of the window being covered up for privacy, while the top can remain open if you want to let some light in!
Window Direction: Another Factor to Consider
A few months back, we dove into all things window direction. A main highlight is that it's crucial to consider which way your windows face when making design decisions for your bathroom. Whether you get the bright sunrise, or the constant rays of the bright afternoon sunshine, will change which treatments are best suited for your space!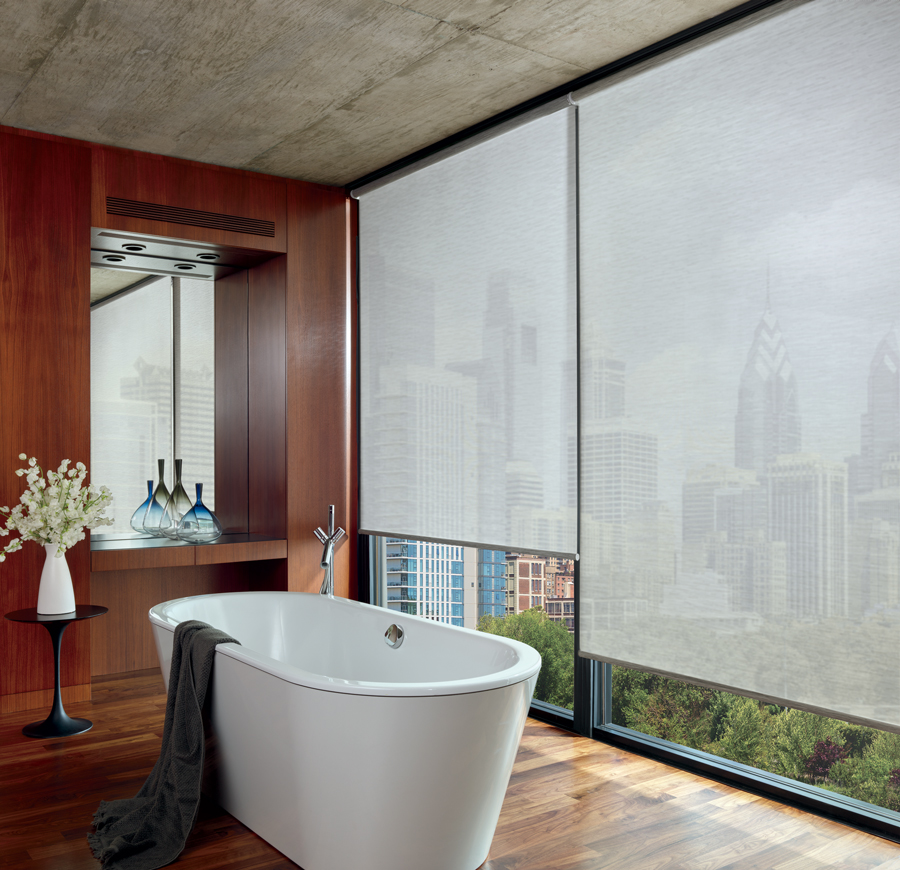 UV ray damage is just one more issue you might be facing. Strong UV rays beating in can cause your floors, walls, and furniture to fade over time. Dressing your windows will provide: energy efficiency, light control, privacy, UV protection, and even temperature control.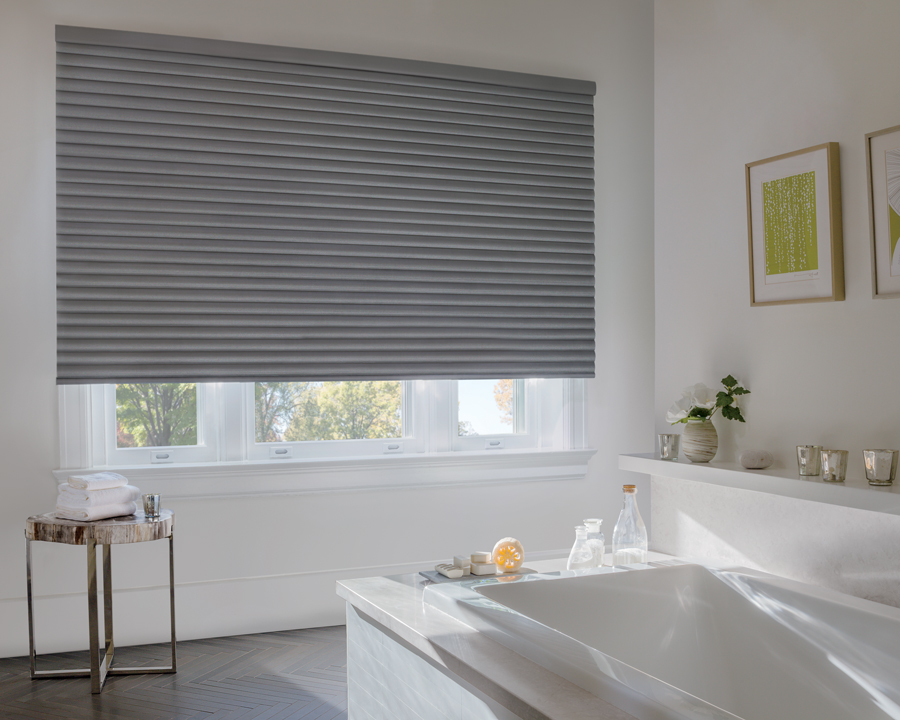 The last thing you'll want to deal with is feeling a draft in your bathroom. With the right energy saving shades, comfort is a top priority.
How to Dress Large Windows
Floor to ceiling, or wall to wall, windows are surely a showstopper! However, when it comes to bathrooms, those large windows can seem like a bit of an invasion of privacy. Not to worry, we have countless treatments for even the largest of windows. These treatments add function when in use as well as act as a beautiful backdrop in your bathroom.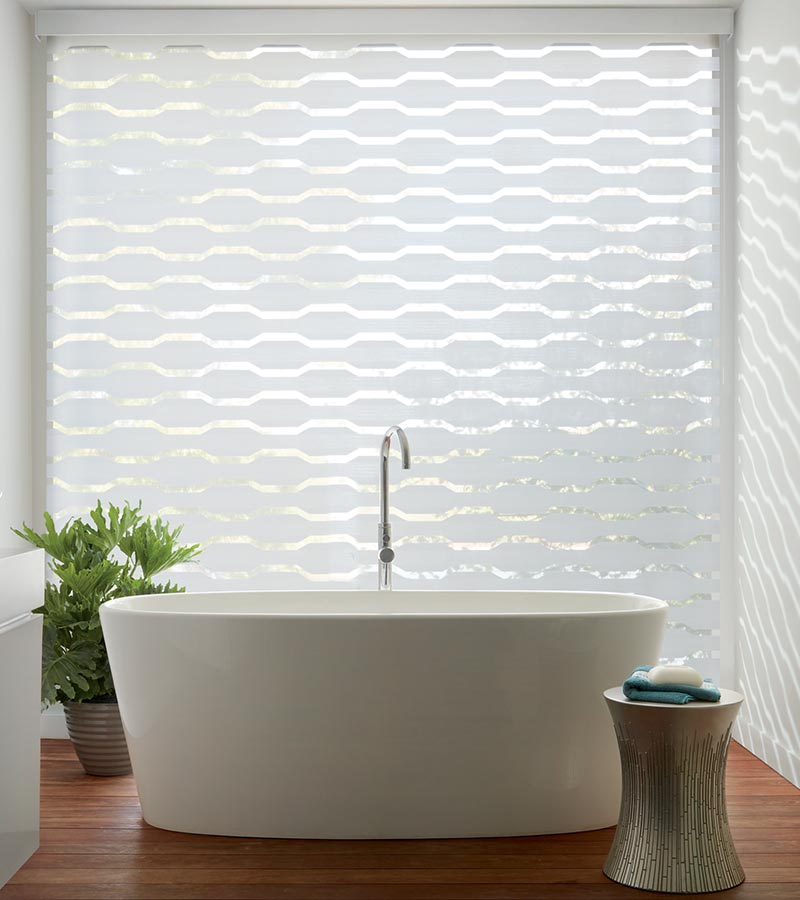 Even these large treatments are simple to adjust and will allow you to enjoy the light and the view when you desire and quickly close them up when you're seeking a bit more privacy. For even more added convenience, consider adding smart shades as bathroom features.
Small Space Options
For smaller windows, or smaller bathrooms, it's important that the treatments don't swallow up the window. Too bulky of a shade will make the window feel even smaller and take up too much wall space, creating a more claustrophobic feeling in the entire space. Choosing a neutral treatment is our go to solution!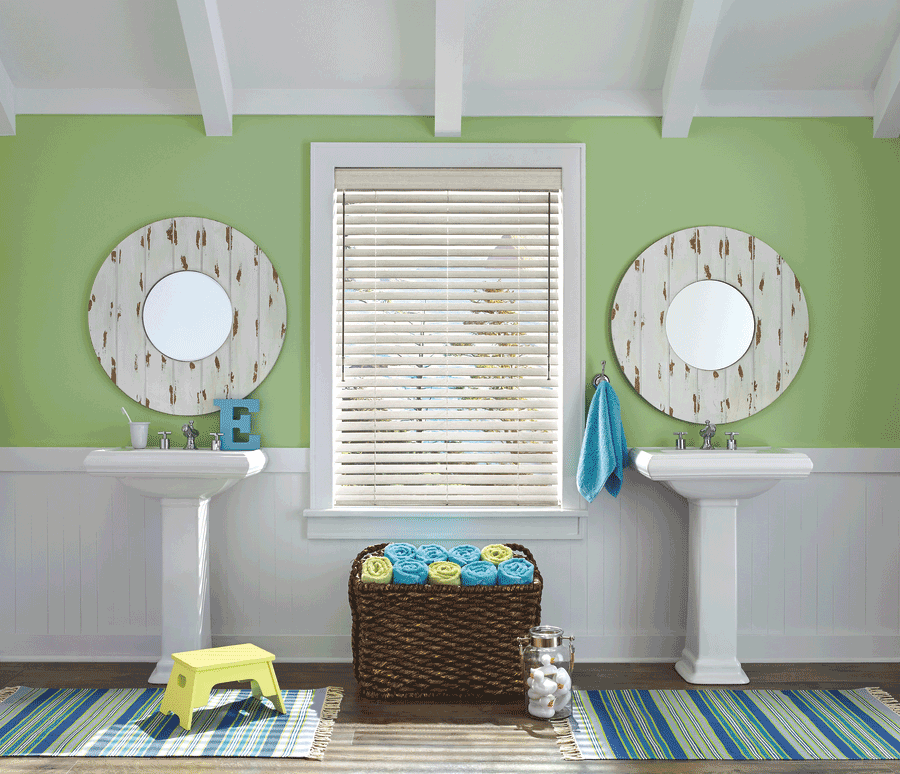 These smaller bathrooms are often used by guests and children, so it's key to have easy-to-adjust treatments in place for everyone.
Selecting the Right Bathroom Features for You
Each homeowner is likely to have different needs and desires for their bathrooms. That's where our team can help! Rocky Mountain Shutters & Shades is full of experts that can help you combine your personal style with your functionality needs to pick the right treatments throughout your home. Contact us today for your FREE consultation.