Your home should serve as an oasis for you and your family, and your dining room is no exception! Whether you and your loved ones gather for every meal in there, or it's more of a holiday room, both style and function are important when creating your ideal space. No matter how unique your dining room is, natural lighting is pretty universal. That's where we come in. We have all the tips and tricks to keep in mind when choosing your next dining room window treatments. 
Making the Choice to Add Dining Room Window Treatments
Switching up the look of your dining room may be at the top of your list while you're on the hunt for new dining room window treatments. Which is completely understandable! Styles change, and we see that all the time. But, don't forget about where the natural light hits the strongest, maybe unbearably, and what other functions you need from your new window coverings.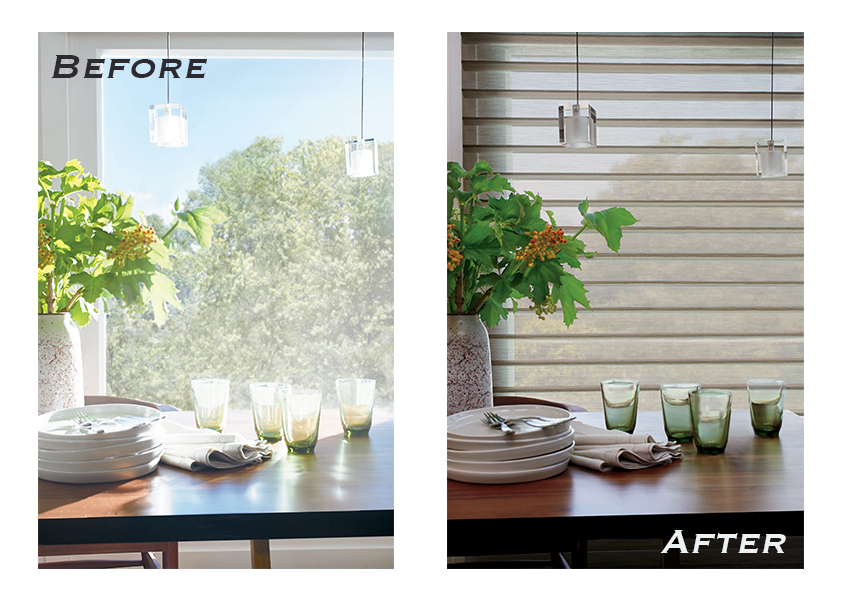 If this dining room had bare windows, the table may rarely see use. The natural light floods in at certain hours, and there's no privacy from passersby on the sidewalk. This is why dining room window treatments are so important! We have a few different concepts that are crowd favorites that we want to introduce you to…
Layering isn't Just for Your Clothes
It may be the season of layering sweaters and jackets to stay warm and cozy. But, we're here to tell you that you can bring that extra coziness to your home, too! Layering your favorite shades or blinds with a drapery option can elevate a space and give it a completely new atmosphere. It adds extra levels of function as well…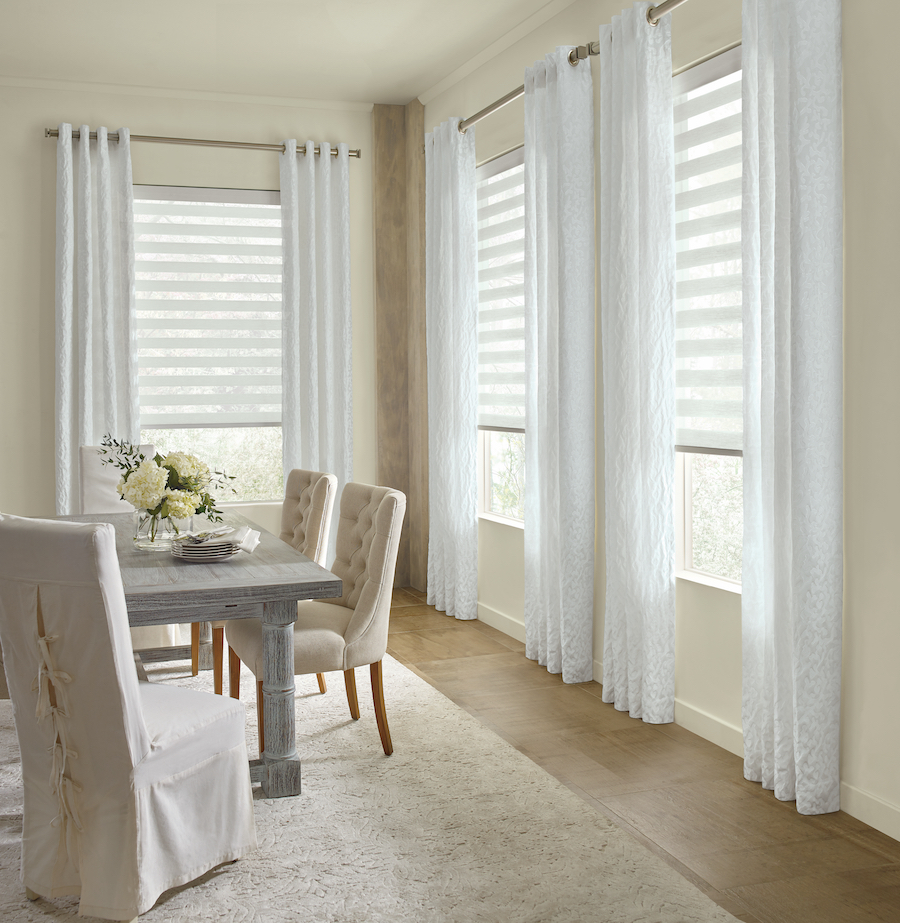 This space features Designer Banded Shades to control the natural lighting and add privacy. They're topped with Design Studio drapery side panels to tie in the style of the home, frame out the beautiful view through the windows, and add even more possibilities in how to adjust the atmosphere.
A More Welcoming Atmosphere
We've seen bothersome lighting make a room virtually unused in homes. That's why we're happy to tell you that we can help you control that, and more! Whether you're needing help with reduced glare, temperature control, or added privacy we have the perfect solutions for you.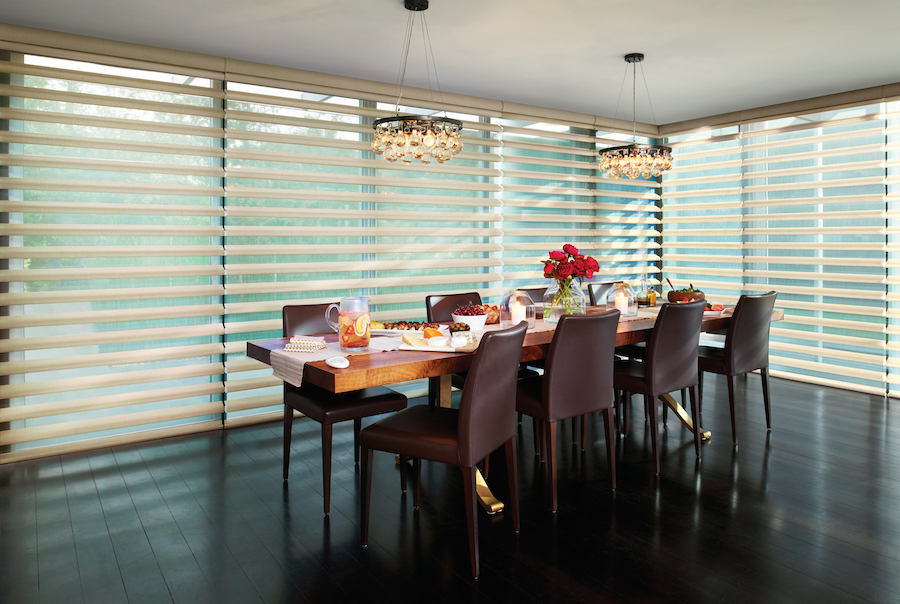 One of our favorite recommendations for solving several big window problems at once is adding Pirouettes. When the vanes are open, diffused light will brighten the space without glare, but also added UV protection. Then, when you're seeking more privacy, or light blocking, it's as simple as closing the vanes.
A Twist on Traditional
Does your dining room face the street? If so, you may be looking to cut distractions while you're eating. You no longer have to sacrifice your stunning evening natural light for the sake of privacy. Top down bottom up  offers the best of both worlds in this scenario. It allows you to cover the bottom portion of the window while letting the light flow in toward the top.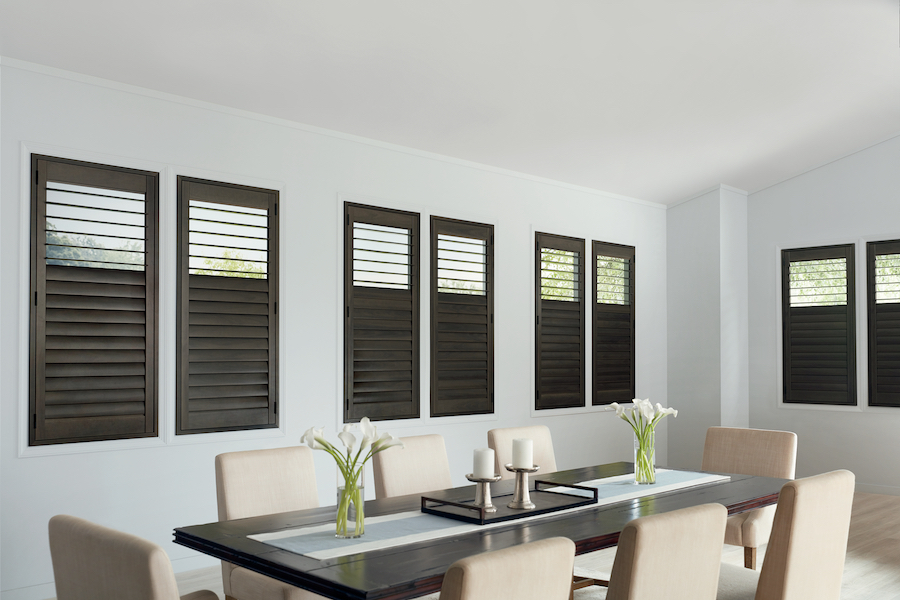 A twist on the traditional interior shutters are "split tilt" shutters. These function just like a top down bottom up shade but with the look of beloved shutters. Simply close the bottom louvers while leaving the top open to achieve this look.
We Can Help!
No matter which option you're drawn toward, your dining room window treatments should reflect your style while still meeting the needs of the space. Contact our team at Rocky Mountain Shutters and Shades today for your FREE consultation.